How to reduce spam in your inbox
If you seem to be getting a little more spam than normal it's likely a temporary problem. The anti-spam engine may be having an intermittent issue or someone may have figured out a new trick to get past the spam policies.
Here are a couple things you can do to help.
Flag and Purge
Instead of deleting those spam messages make sure you flag them as spam instead. Messages flagged as spam will help the anti-spam engine recognize similar messages in the future.
Sign in to webmail

Right-click the message and select Report Spam.
Alternatively you can check several message at once and choose Report Spam from the More menu.
To purge your spam messages simply right-click the Spam folder and select Purge "Spam".
Check your settings
Spam Settings
Make sure your spam settings are set properly.
Sign in to webmail

Click on Settings (the horizontal stack of three white bars in the top right corner of your webmail)
Click on Spam Settings on the left of the pop-up window
Change your Spam Filtering option to "On"
Change your Spam Handling option to "Deliver to the Spam folder"
Safelists
If you continue to receive the same messages you may have inadvertently added the user or domain to your "allow" list.
Sign in to webmail
Click on Settings (the horizontal stack of three bars in the top right corner of your webmail)
Click on Spam Settings on the left of the pop-up window
Click on the Safelist tab at the top and remove any unknown domains or addresses
You will likely see a lot of strange email address with random characters at the beginning. Those are email newsletters that you've probably signed up to receive. You can delete them from your Safelist if you want however you should check your spam folder over the next couple months to make sure your newsletters and subscriptions didn't end up there by mistake.
* Unfortunately there's no easy way to expand the window to see the full email address. If you aren't sure you can always delete it and add it later if needed. Contact us if you want to see the full list of email addresses.
Delete any entries that are from common email sites. For example, if you have "@yahoo.com" in your safelist then every email you receive from a Yahoo user will be allowed. Instead of allowing all Yahoo emails you should allow specific people (e.g. yourfriend@yahoo.com).
Blocklist
Add frequent violators to your spam blocklist.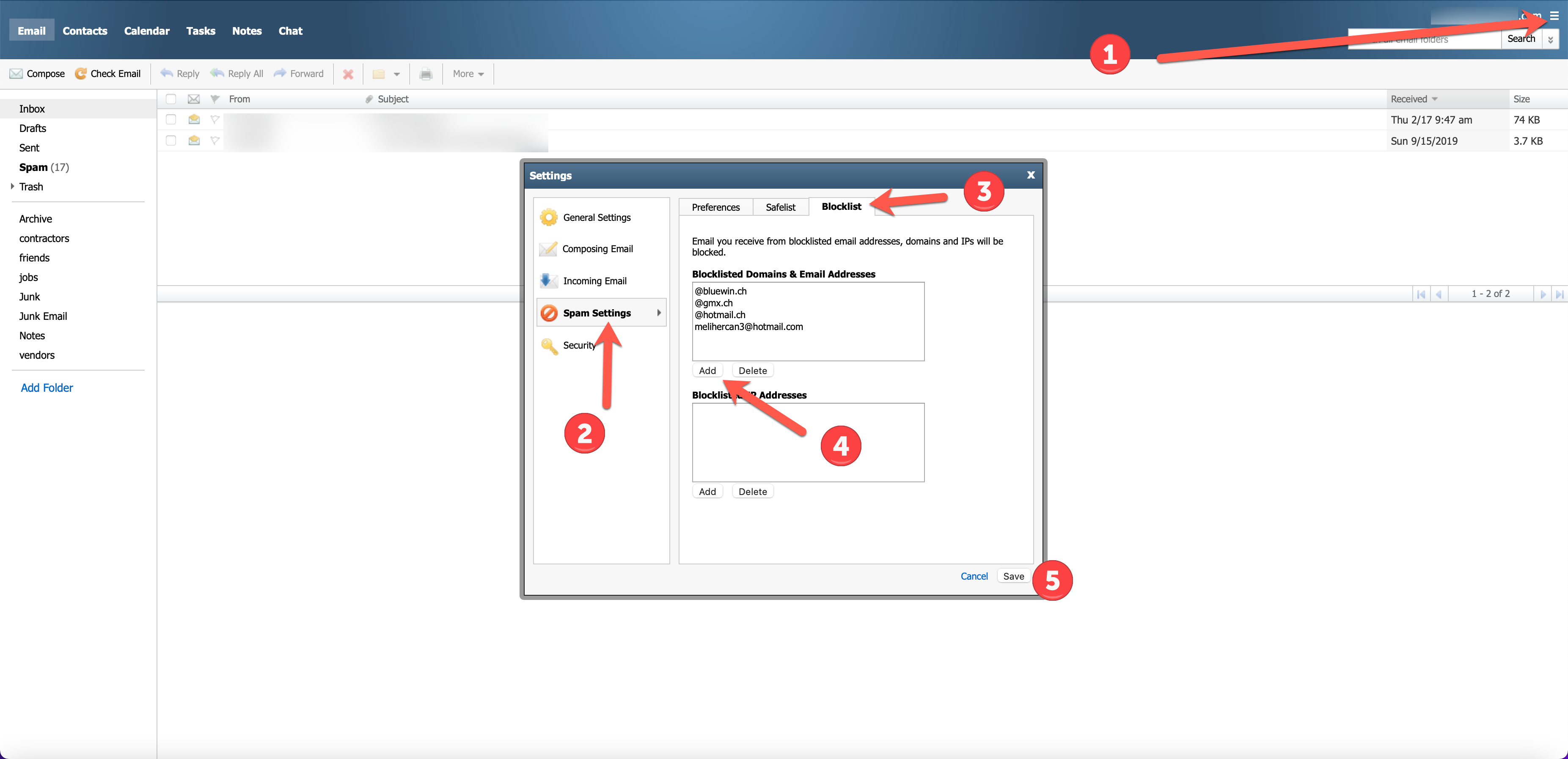 Stay safe
To keep from getting spam in the future you should avoid publishing your email address online in public forums. Don't share your email address with companies you don't trust. And use a temporary or throwaway email address from sites like Mailinator as a buffer between you and someone you're not sure about.